A Step-by-Step Guide to Chandelier Lighting
Purchasing lighting for your home can be shockingly tricky, even for decorating veterans. The options can be dizzying, the décor in the space should match and let's not even get started on proper placement.
That's why it can help to break things down through a step-by-step guide, from shopping to installation. Here are 10 essential tips for decorating with a chandelier, with some fresh, "I didn't think of that!" pieces of advice along the way.
1. Start by Browsing Websites and Visiting Shops
When it comes to choosing a chandelier, it's important to cast your net wide. There are near-limitless lighting options out there nowadays, but you can start with thinking about the design of the room where you intend to hang the chandelier. Is it a traditional space? One that's marked by Midcentury accents? Does it have a farmhouse aesthetic? This can help you to determine the feel of the chandelier that will mesh flawlessly with your style.
You can start by reading articles about popular chandeliers that are available, or you can head to a few widely-admired lighting websites. Lighting Direct is a favorite among interior designers, while Wayfair allows you to shop by your preferred décor style. Lightology and Schoolhouse Electric specialize in ultra-modern pieces, and Serena & Lily excels at providing chandeliers in natural, bohemian-inspired materials. And of course, you can't go wrong with World Market or IKEA.
Peruse local retailers as well. Big-box hardware stores can be wonderlands of surprisingly-chic chandelier choices. And to think outside the box, look to flea markets, resale shops and salvage yards—they're your best bet to find unique vintage chandeliers. If they have wiring that seems old or unreliable, head to a reputable lighting store to refresh the piece with safe, current-day wiring—and be sure they install UL-certified wiring, especially if the chandelier is being placed in a newly-constructed home.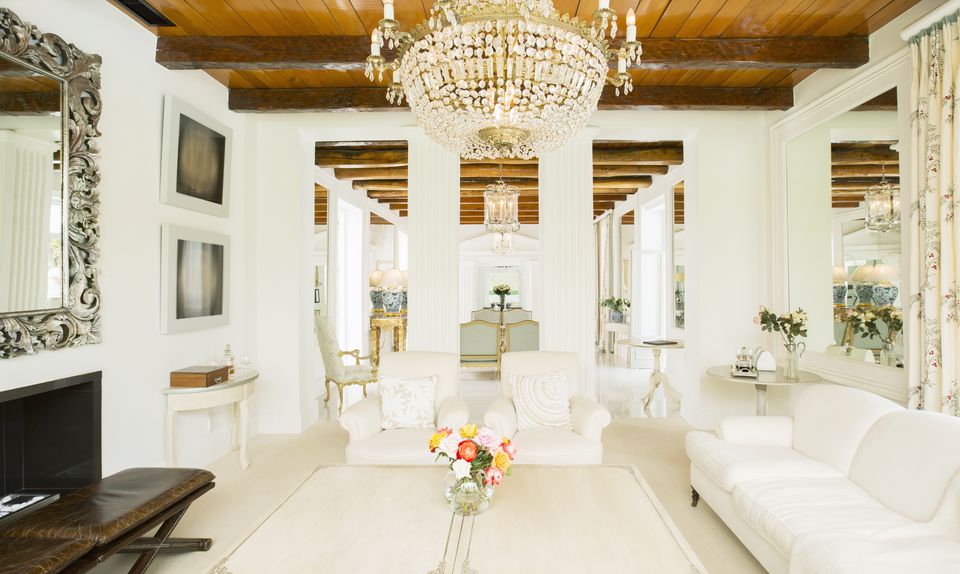 2. Choose a Chandelier That's the Correct Size for the Room
If you install a chandelier that's too big for the space, it can feel overwhelming. Too small and it's underwhelming. It's one of those design elements in which proportion is key.
There are several schools of thought around chandelier sizing, but experts tend to agree that there's a mathematical formula that can help you find your ideally-sized chandelier. You can do it yourself (add the dimensions of the room together in feet, and then convert the result to inches—that will be the optimal diameter of the chandelier), or you can use an online calculator, like the one available on Lightology.
3. Complement the Color Palette and Materials of the Space
A chandelier should feel like an extension of the style of that particular room. Anything but crystal chandeliers would look entirely out of place in the halls of Versailles, for example.
When searching for a chandelier, think about the hues and materials that stand out in the room. Are warm woods or dark woods prevalent? Do you lean toward bright colors, or do you enjoy a neutral palette? Do you mix metals, or is only one metal present in the room? These are the things to consider when looking at wood, beaded, crystal or metal chandeliers.
4. Purchase Décor Pieces That Echo the Look of the Chandelier
If you prefer, you can also build a room around the fixture, especially if it's a showstopper that you simply adore. If the chandelier features distressed, vintage-inspired wood, bring in dining chairs that mimic that same wood. If your chandelier is brass, weave in brass touches, like candlesticks, decorative objects or picture frames.
5. You Don't Need to Buy a Crystal Chandelier
Yes, crystal chandeliers are certainly pretty, but you don't necessarily need to go with this oh-so-traditional option. If you're new to the world of chandelier shopping, they've gone far beyond crystal detailing. For a dramatic, yet non-crystal, look, go with stained glass, shining metals or glass, bubble-like bulbs, seen often on Sputnik chandeliers. If you're one for natural materials, chandeliers now come in rope, seashells, reclaimed wood, paper and beads. To go minimalist, seek out unfussy chandeliers that carry small, notable details, like matte metal finishes or geometric designs.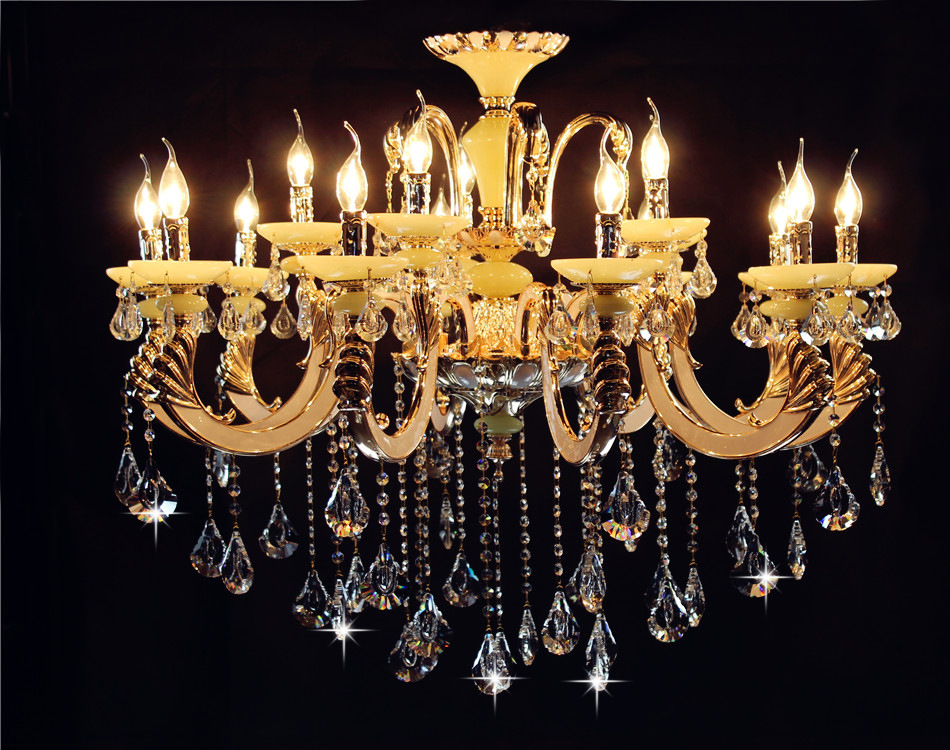 6. Put a Chandelier in an Unexpected Location
Although chandeliers look great in the classic spots—dining rooms, entryways, master bedrooms—it's fresh and inventive when one is hung in a non-traditional space. Could your laundry room use a boost of style and luxury? Do you have a powder room that needs some eye-catching décor? Perhaps your kitchen requires some extra lighting, and a chandelier could do the trick. Even children's room are increasingly displaying playful chandeliers that pop. Push the boundaries with where you hang your chandeliers.
7. Turn Vintage Treasures into Chandeliers
For a chandelier that really turns heads, look no further than vintage objects that can double as lighting. Crafty antique enthusiasts have taken their flea markets finds and transformed them into remarkable pieces. At a vintage shop or market, keep your eyes peeled for large metal funnels, bohemian baskets, rusted paint cans and other items that have a circular shape. Then take your find to a lighting shop to be wired professionally—and again, that means UL-certified.
8. Hang the Chandelier Correctly
Depending on where you're placing your chandelier, there are some guidelines you can follow. When hanging a chandelier above a dining room table, experts generally agree that it should hang 30 to 36 inches above your table. The rule is simple—the taller the ceiling, the taller the chandelier, and chains can always be extended or shortened if needed. For an entryway, the majority of pros assert that the chandelier should hang no lower than 7 feet.
9. Be Thoughtful About Where You're Hanging the Chandelier
A simple choice of placement can communicate whether you're a traditionalist or someone who has a penchant for unconventional décor. If you love the classic look and the rest of your space is steeped in the tried-and-true, center your chandelier over the dining table, for example. Otherwise, hang it slightly off-center if you're striving for unexpected styling.
10. Make Your Chandelier the Focal Point of the Room
Chandeliers work beautifully as the center of attention in a room. This is undoubtedly true if the chandelier is particularly ornate or displays vibrant colors. In your space, forgo large, attention-grabbing furniture or décor items in lieu of a chandelier that's directly in the spotlight, and allow it to shine.